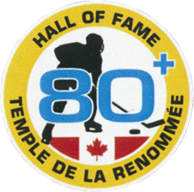 ---
---
---
---
80+ Hockey Hall of Fame Ceremony
A CALL TO ACTION
Attend the 2022 Canadian 80+ Hockey Hall of Fame Ceremony
Don't be offside or penalized for un-sportsmanship. Support your future hockey leaguebyattending the 80+ Hockey Hall of Fame Ceremony.
The 60+ Hockey League is hosting the 2022 Canadian 80+ Hockey Hall of Fame Induction Ceremony. Most of the 20 Inductees graduated from the 50+ league and actively play in the 60+ league. These exceptional hockey veterans are being recognized for their longevity, dedication and as role models for staying active playing senior recreation hockey at Schroh Arena.
The Induction Ceremony and Banquet is being hosted at the Western Development Museum on April 23 starting at 5:30p.m. A great silent auction is taking shape that includes a Gretzky signed stick, a Carey Price signed jersey, signed jerseys from Calgary Flame and Edmonton Oilers, a 2018 NHL West Division All Star jersey, two Edmonton Oiler game tickets and much more. You will not want to miss the great guest speaker that has been lined up. Kerry Fraser, NHL Hockey Hall of Fame referee share his many tales and stories from a long lustrous career. Plus, there will be special guests, dignitaries and Old Pros you will not want to miss.
The 60+ hockey league is the envy of older adult leagues across Canada. Dedicated volunteers work tirelessly to provide a place for active adults to continue playing hockey after sixty. This league is the next progression for 50 plus league players to continue playing organized hockey, have fun with hockey enthusiasts of comparable skill and the all-important dressing room camaraderie that all players enjoy.
The Saskatoon 60+ League needs your support and this email is an URGENT CALL TO ACTION to purchase your banquet tickets now. The success of this event depends on your attendance. So, purchase a single ticket for $75, or better still get a group of team players or friends together and purchase a table for eight for $560. A great value to witness a memorable night with great entertainment. Tickets can be purchased by contacting George Wilson at gwilson4201@gmail.com or Michael Rohatynsky at m.rohatynsky@sasktel.net
In addition to the Induction Ceremony, there are festivities during the day at the Merlis Belcher Place as follows:
Come out to watch a hockey game between 75 plus players and a Saskatoon Minor Hockey Bantam Girls hockey team. Time 1:00 to 2:00 pm.
Watch the Canadian 80 Plus Hockey Hall of Fame Induction Game featuring Inductees from 2019 to 2021 and the 2022 Inductees. Time 2:45 to 3:45 pm.
See you on April 23 at the 2022 Canadian 80+ Hockey Hall of Fame Ceremony.